ODM Die Casting pour alliage d'aluminium Boîte électronique Fabricant
Description du produit
N ° de Modèle: KRA0202 Méthode de moulage mécanique sous pression: Usinage de précision sous pression: Centre d'usinage Préparation de surface: Tolérance de polissage Grade: 6 Certification: SGS, ISO 9001: 2008 Marque: Non Spécification: ISO 9001: 2008 Code SH: 76109000 Machine de moulage mécanique sous pression à chambre chaude: Accessoires électroniques Matériau: Structure de chambre à pression en aluminium: Niveau de qualité de surface de coulée horizontale: 2 Dimensions: Peut être personnalisé Emballage de transport: selon les exigences du client Origine: Chine continentale . \ n2. Temps de moulage court \ n3. Assurer la vie du moule \ n4. Type de processus de moulage mécanique sous pression: Chambre chaude pour l'alliage de zinc / chambre froide pour l'alliage d'al et de Mg Produits de moulage mécanique sous pression de grande qualité de levier des véhicules à moteur

\ n
Main
 advantages
1.Die Casting Molds Quality: Insist on making every detail carefully always
2.Die Casting Molds Price: Maybe not the lowest, but must be the reasonable and competitive price 
3.Die Casting Molds R&D: Plentiful experience and skillful technique on die casting 
4.Die Casting Molds Team: United and positive team
Top 
Quality 
Automotive 
Lever Die Casting 
Products
 Specifications:
Item

Description

d

ie casting  parts

Die Casting  Products 




Molding technique

Die casting mold

Die Casting  Products 




Material

ADC12,A380,AlSi12Fe, AlSi9Cu3,A356

,

 A

DC

14, A380, 




A390 and many other aluminum alloy are all acceptable. 




Zinc Alloy, 

Zamar

k 3,

 Zamar

k 5, 

Zamar

k

7,

 

Zamar

k

8,




Magnesium alloy

:

 

AZ91D.

Die Casting 




Products Dimension

Precision

 level based on NADCA.

Die Casting  Products 




Surface treatment

Sandblasting, Painting, Powder coating, Anodize, 




Galvanized, Chrome plating, Nickel plating,etc. 




painting, powder coating, anodizing, black oxide




coating, nickel plating, etc.

Die Casting Molds

Mold Cavity

Single or Multiple

 Mold Material

H13, 

2344M,8407,DIEVAR

, TQ1,  SKD61,




45#steel, etc.

 Heat treatment

Hardened, Nit riding

 Die Casting Molds




feature

Advanced design,   Novel structure,   High precision,   




Quality materials,  Long lifetime,  Short delivery time

Mold Making Equipment 




Inspection tools




 

CNC precision Machining, Die Casting Molds engraving machine, 




CNC forming machine, CNC turning, EDM, Linear cutting machine, 




, Die casting machine(180T~1250T),  




Lathe, Grinding machine;  CMM,  Material detector,  Hardness test 




device,  spectrograph,

 

etc.

Die Casting Mold  Design 




Software

CAD,  UG,  Pro/E,  

MAGMA

, etc.
\ n \ n
Die Casting Mold Making Process. How to make die casting molds?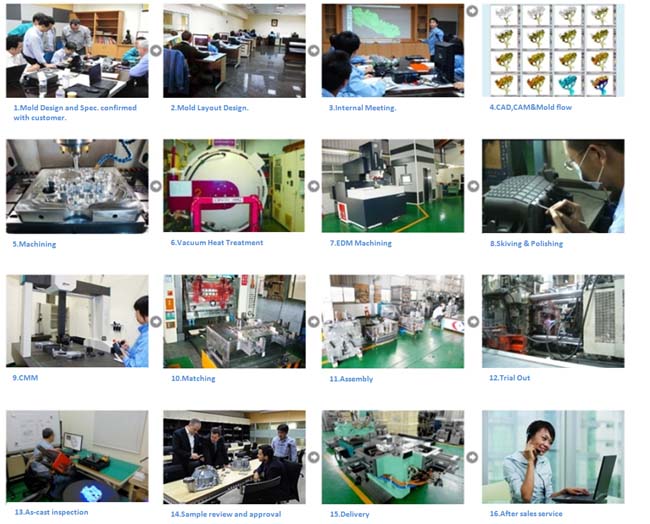 1. Mold Design 
2. Mold Making
    a. CNC Machining
    b. 
Die block 
 Heat Treatment ( Quenching)
    c. Grinding
    d. CNC Fine Machining
    e. EDM (Electron Discharge Machining)
    f. WEDM(wire electrical - discharge machining)
    g. Cavity Polishing
    h. Assembly Mold, Mold Spotting
3. Trial Mold 
4. Mold Delivery or Die Casting Production
About Company
Shanghai KR tool & Cast TLD.,co.
  specialized in manufacturing high quality Die Casting Mould, 
ESI & DFM Capability 
When  launching new project  with detailed drawings and requirements, KRTOOL technical team 
start study from the material composition, casting structure design, mold manufacturing, casting 
production technology, processing programs for a
detailed technical assessment. Our main focus on automotive engine brackets, aluminum die cast body
and suitable for high-vacuum die casting, squeeze
casting. Currently there are direct and indirect
customers General Motors R&D Center, Shanghai
Volkswagen, FAW-Volkswagen, Toyota, 
Citroen and some military enterprises.
Tooling Design  
Many professional mold design engineers with more than 10 years experience serve company many years.tTheirintelligence is the company's core competitiveness. Engineers have mastered the design 
software such as Pro / Engineering, UG, Auto-cad and mold flow simulation of MAGMASOFT, flow 3D . 
Many engineers have  uniqueapproachs and decisions for the FEA analysis result and post-processing operation.
Mold design engineers will be based on the preliminary assessment of customers' products, designed different layouts  to meet the high-pressure casting, squeeze casting, such as different types of mold 
and the corresponding theoretical parameters used for coming tria-shotl.
Mold Making 
Manufacturing equipment  list as :wire cut, EDM, CNC, grinders, lathes etc. and tinspection equipments, which can make the tool use for less than 1,600 tons casting machine. Under the four senior engineers' 
lead
-
shipment.
they can made  more than 15 sets mold per month and after-sale maintenance.
Trial shot
With our strategic partners collaboration the company can provide the following tonnage type casting machine trial-shot:
Light alloy die-casting mold to meet casting equipment models list as: 280T, 350T, 500T, 650T, 800T, 
1250T, 1600T.
Aluminum squeeze casting  to meet casting equipment models list as:350T, 550T, 800T, 1000T,1250T, 
2000T, 2500T.
Casting Mass Production
We will conduct an annual self-assessment of all aspects to ensure that our
product is presented to customers more competitive, develop more outstanding partners and more potential customers
led us continuous Improve our  production, transportation, service and customer complaints.
Integration 
Bringing your idea into Value is our responsibility! Working as the your perfect partern is what we are 
good at. Our professional and dedicate team provides integrated and flexible service and coordinate 
every aspect of your needs from sourcing, product DFM, branding, manufacturing, QA/QC, shipping consolidation to point of sale. Our integrated service not only makes your life easier but to make your 
profit Higher!
 Customers can get one-stop service from DFM, tooling design, mould simulation, mould making, trial 
shoot service from KR TOOL. We focus on making high quality moulds for automotive parts. We have 
many successful cases for VW, AUDI, GM,Peugeot,TOYOTA. 
Package of Die Casting Mold
(Carton Box)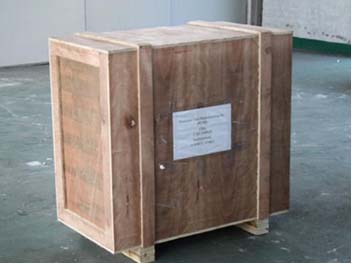 FAQ
Q1: When can I get the quotation?
A1: Usually you need to send below information, we will quote within 12 hours after we get it. 
Q2: Can you help with the design?
A2: Yes, we have a professional team having rich experience in die casting moulds design and 
manufacturing. Just tell us your ideas and we will help to carry our your ideas into perfect moulds.
Q3: Shall I need to prove the brand ownership ?
A3: Normally, you need to supply a copy of brand authorization to us when you place an order. 
Otherwise, all 
pictures with brands which were mentioned in this artical are just for reference, the trademark right is 
belong to our clients.
Q4: How long can I expect to get the sample?
A4: After you pay the deposit charge on mould and send us confirmed files, the samples will be ready 
after 
mould finished. The samples will be sent to you via express and arrived in 5-7 workdays.
Q5: What about the lead time for mass production?
A5: Honestly, it depends on the order quantity and the season you place the order. 
Generally speaking, we suggest that you start to inquire two months before the date you 
would like to get the products 
at your country.
Q6: How to contact us?
A6: Send your Inquiry Details in the Below, Click 
"Send"
 Now. 
Groupes de Produits : Service de conception